In the Telegraph and Daily Mail
LAAS featured in the national press
In the Telegraph:
"Labour Against Anti-Semitism, an anti-racism pressure group, has also warned that is considering legal action.
In a statement, a spokesman said: "Our lawyers have been in touch with the relevant parties. We have collated and are collating evidence of people sharing the report and the information contained therein."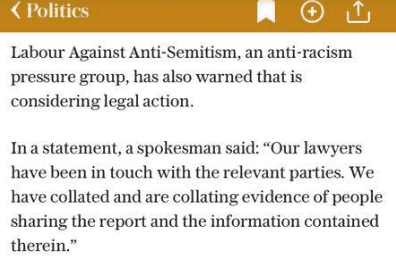 In the Daily Mail
"Last night Labour Against Antisemitism said details from the report – including names of complainants – had been shared online by neo-Nazi groups."