Hello Magazine and Design Week
LAAS mentioned in Hello magazine and featured in Design Week
Hello Magazine
the Countdown star wrote: "Huge thanks to the lovely people of @LabourAgainstAS for this gorgeous, thoughtful gift for our little one! An owl for Maven (who understands) and a lioness for Aria, it's on our wall already. Painting by Mina Kupfermann. Commissioned by @LabourAgainstAS & supporters."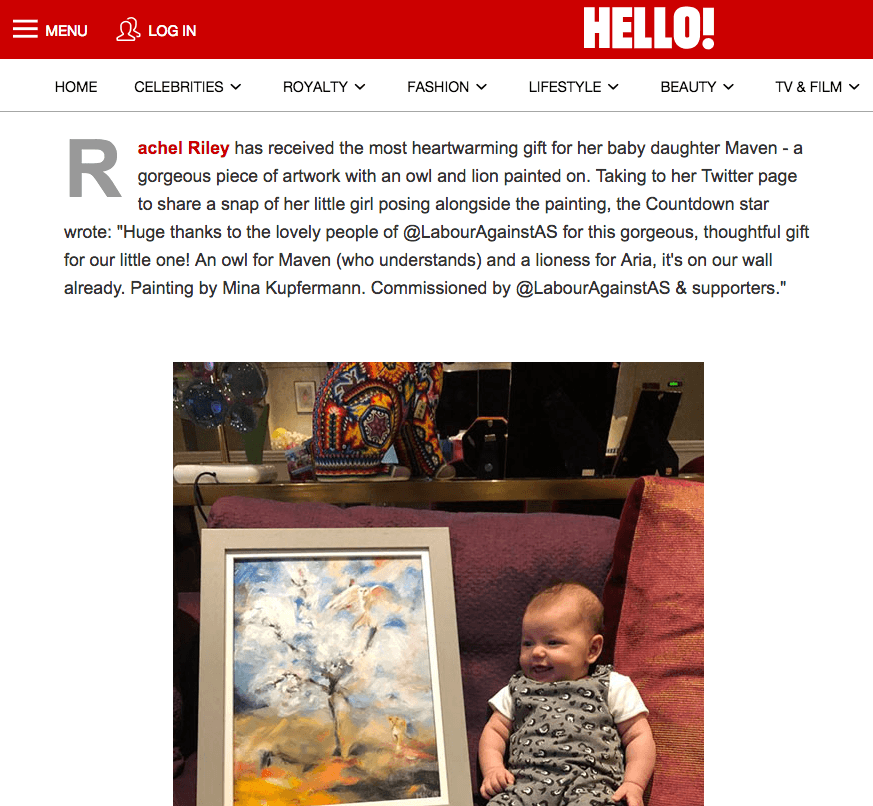 Design Week
"Watchdog that calls out perceived Labour Party antisemitism rebranded
Labour Against Antisemitism aims to highlight the 'rise of anti-Jewish sentiment in the Labour Party'. LAAS is run by volunteers from within the Labour Party, and is independent from it. It reports on instances of antisemitism in the party, from social media posts to controversial staff appointments. Its members often speak to the press about the reports.
Euan Philipps, a spokesperson from LAAS says:
'LAAS needed a more recognisable brand identity to help position themselves as the foremost experts on the subject. Something to help them confidently extend their communications beyond monitoring and reporting cases.'
The pressure group had previously 'piggybacked' on Labour's rose logo 'in a rush to establish themselves during an escalating crisis', Philipps says.
Design details
The geometric logo is a 'remixed' version of the most well-known Jewish symbol, the Star of David. The two halves of the star have been separated and arranged in a triangular formation.
There were two motivations behind this, according to Philipps.
'Using religious symbols would make LAAS look like a religious organisation,' he says. The logo is also supposed to recall the play button, to denote a sense of action."